Who we are
Our company combines the experience of a professional musician, a music teacher, and a repairer /restorer. Above all, we are lovers of the instrument.  We restore, repair, lease and sell. Reviving well built, vintage instruments is just as satisfying as seeing a customer leave with the instrument he or she fell in love with.
our studio / shop is at home.  You are cordially invited to drop by, for competent consultation without any obligations. We may not be in at all hours, so it's a good idea to give us a call first.
We specialize in 2 things.
– Buying an craftily restoring quality used and vintage instruments to be playable for a long time. We aim for a mixture of great practice instruments, middle class and top notch instruments. We maintain very high standards regarding the quality of the instruments and the work performed on them.
– Maintenance, repair, refurbishment and restoration of all types of saxophones, clarinets and flutes for our customers. We are perfectionists where mechanics, intonation and sound are concerned. We do not look for the cheapest solution – we seek the best. In some cases, that may actually be the cheapest. We prefer not to solve problems with a drip of oil, but rather with craftsmanship. We repair and restore both saxophones, flutes and clarinets.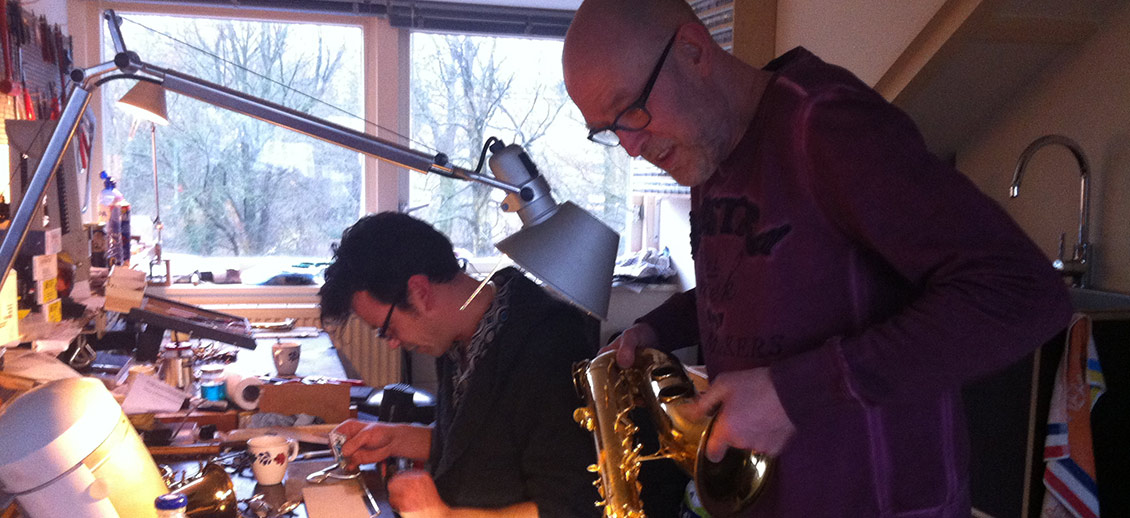 What we sell
Used instruments
We have 150 to 200 used saxophones in our catalog, of all types and brands, including;
Buescher
Conn
King
Martin
Selmer Keilwerth
Yamaha
Yanagisawa
Kohlert
Vito
Mauriat
Antigua
B&S
Cannonball
Other than that, we offer a small number of used flutes and clarinets.
Used and refurbished instruments come with a one year warranty, a free service at the end of that year, and a buyback guarantee. It means that we buy the instrument back from you (provided it is without damage) in the unlikely event you should wish to reverse your purchase. Terms and conditions can be found in the section Buy Back Guarantee.
We offer refurbished saxophones, but also saxophones that literally just arrived. These new arrivals are initially offered as they come, at a greatly reduced price. We do let you know what it would cost to get the instrument fully functional. That could be a complete overhaul, but it may as well be just some more or less extensive maintenance. Whether you want that done by us or by favorite repair service is entirely up to you.
Check it out frequently!
Lease  
Yes, we lease! Refer to the section Lease.